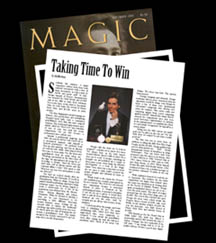 Taking Time To Win
By John Moehring
Suddenly last summer, a single competitor walked away from both national conventions with a slew of shiny decorations, as well a stack of checks and green stuff. In July, George Saterial of Dracut, Massachusetts was awarded the Gold Medal and $1,000 cash at the IBM in Little Rock Arkansas. Two weeks later, at the SAM in Cincinnati, Ohio, he took home the Award of Honor Gold Prize and $3,500 more in prize moneys.
The New Englander's award-winning act features dove productions and multiplying "Zombie"-sized balls, with a centerpiece grandfather's clock that has some magical surprises. The well-honed eight-minute spot, simply called the "Clock Act," has a timeline of over 12 year, but until the recent competitions, the act had become a performance piece seldom seen.
Saterial, a professional magician since 1986, the year he left his "real world" job as a mechanical engineer, calls himself a "general practitioner." He performs both close-up and stand-up, and has an illusion act with his wife, Holly, that's played about five years on cruise ships. He's quick to add "However, my true love and passion is with my dove act."
The bird act evolved shortly after his graduation from the University of Lowell in Massachusetts. While in college, George had gained valuable performing experience doing restaurant magic, but he always longed to create a cabaret-style act. A few of his inspirations were Richard Ross, Mr. Electric, Norm Nielsen, Shimada, and Johnny Thompson. When he decided to develop a dove act, he was determined to do something a little different. Browsing around furniture stores, looking for an unusual table to replace the traditional vanishing-cage table used by most dove acts, he struck upon the idea of theming his act around a grandfather's clock. The stately timepiece was cleverly converted to and on-stage dove cote full of mysteries.
George calls the silent act "a work-in-progress"---a theme act in search of a venue. "It's always been on the back burner. Around Boston, there's really no place for a dove act to work" It became something he brought out and polished up a couple or three times a year, when doing "an Abbott's Get-Together or a week at the Magic Castle." Also, there was a reluctance to book the act, since it really hadn't received the proper thought and rehearsal he knew it deserved.
Which leads to the reason the 37-year-old established pro recently participated in the two contests. The Clock Act was entered into competition because it motivated Saterial to place it foremost in his performing priorities. It provided a discipline to get the act up to speed. It would drive him to add all those finishing touches he'd dreamed up over the years. And, "It certainly got me off my butt because of the deadlines.
"I locked myself in the garage, and went back to rethinking the act." The giant multiplying balls, which he'd done since high-school days, were completely re-routined. "I even rebuilt the grandfather clock, after coming up with the ball-as-a-pendulum idea." Much of the music was change. The focus was back. The passion had returned.
During restaging and rehearsal, George maintains that he never considered what his opponents would be doing, even though he knew a few of them were "professional contestants"---magicians who develop acts solely for trophies. "But you're really not competing against them; you're competing against yourself." Saterial also claims that he entered the competitions since they were good showcases---opportunities to perform at the national level---to establish the Clock Act and attain "recognition" for himself as a serious player.
.Going into the IBM contest, his initial goal was "to place in the top six." For the SAM show, he wished "to just have a really good set."
The first win was in Little Rock. In addition to taking the IBM First Place Stage Trophy and the $1,000, George grabbed the not-too-often-passed-out Gold Medal International Award of Excellence in Stage Performance. This top honor had been presented only five times in its history: first to Lance Burton in 1980, Howard Hale in 1985, James Cielen in 1988, Jade in 1990, and Greg Frewin in 1993. When Saterial became the sixth Gold Medal winner, a few wondered if there was a hidden message in his mission statement "to place in the top six."
With confidence buoyed, he took the act to Cincinnati. The audience for the SAM competition was larger than normal, since the event was scheduled as an evening show in the Procter & Gamble Theater. George again accomplished what he set out to do---score the most points. The panel of judges awarded him the First Place Stage prize of $2,000. The crowd who watched also gave George the most votes, which meant the People's Choice Award of $500 cash. And finally, he hit another jackpot of gold. He won the first-time -ever SAM Award of Honor Gold Prize and another bonus of $1,000.
Will Saterial go for the Grand Prix at FISM 2000? The SAM has offered a sponsorship and $1,500 towards the trip to Lisbon, Portugal, but he's undecided if he will enter. "I am toying with it. A lot of people told me I'd have a good shot. Right now, I've got to catch my breath. This summer has been intense, and I need to sit back and think about things a bit."
Meanwhile, George was signed for the ninth-annual Abracadabra show at the Cincinnati Playhouse. This month, he appears at Wizardz in Universal City, California. And he's already booked for next year's regional SAM Convention in Japan. …timely signs that his pre-contest wish, "to just have a really good set," did come true.
----
Magic Magazine
Copyright © by Stan Allen
Back to other artilces
Intro --Awards --Credits --Reviews --Photos --Articles --Contact --Welcome
---
Copyright © by George Saterial - All rights reserved.

Phone: 978-937-5900
Site designed by Patience Merullo