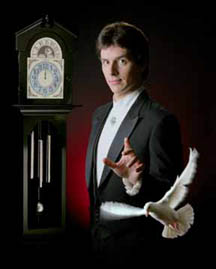 What does it take to become magic's only Two-Time Gold Medal Champion? Only one magician has ever successfully discovered the answer: George Saterial. By merging a truly original concept with classic style, an obsession with perfection, charisma, and tireless practice and work, George Saterial has achieved arguably magic's greatest feat.
George has become the first and only magician in the world to receive magic's highest and most coveted honors, the "Gold Medal of Excellence," from the industry's foremost associations--The International Brotherhood of Magicians and the Society of American Magicians. It's rare that either award is given--in nearly twenty years they have been granted a combined total of only seven times. George was awarded both honors in the same year.
The award-winning routine is entitled "Timeless Magic," as time literally seems to stand still when this classically inspired piece is set in motion. Set at the spellbinding hour of midnight, George uses an impressive grandfather clock as the act's centerpiece. Like clockwork, candles, handkerchiefs, and even doves magically appear and disappear. Simultaneously, the inner workings of the timepiece are incorporated into the illusion, right down to the clock's sphere and pendulum. Most importantly, it's George's endearing smile, playful, charming (and even a bit flirtatious) persona, and unparalleled magical talent and skill that win audiences over.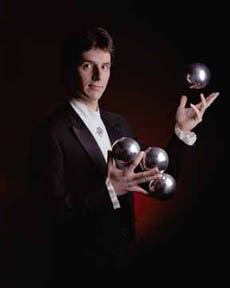 From the stages of Broadway in New York to New Zealand's renowned Regent Theater, George has traveled five continents performing "Timeless Magic" along with the rest of his extensive repertoire of stage, close-up, and roving magic. He has conquered nearly every possible venue including theater, television, film, music videos, cruise ships, corporate special events, and has even performed on ice at a six-thousand-seat arena. George has also entertained an impressive list of celebrities including Clint Eastwood, Mick Jagger, and Tony Randall, just to name a few.
Most recently George's travels led him to another tremendous honor. He was among the few magicians selected to compete at the World Congress of Magic in Lisbon, Portugal. George placed as a top finalist at this very prestigious international event, which is only conducted every three years. This marked the second time George was a featured performer at this conference.
In addition to George's onstage accolades, his peers have also recognized him as one of the best dove acts in the business. He regularly performs at the industry's most respected magic conventions, and is asked to give lectures on the award-winning techniques that have made his act so successful.
In a word, it's gestalt that is needed to become one of magic's most highly acclaimed professionals; the harmonious merger of theatrical, technical, and creative abilities, coupled with an enduring love for magic and entertaining. And thankfully for audiences and the magic community as a whole, that's exactly what George Saterial's truly timeless magic is all about.

Awards -- Credits -- Reviews -- Photos -- Articles -- Welcome
---
Copyright © by George Saterial - All rights reserved.

Site designed by Patience Merullo
Photographs by Paul Chinappi